New York City Marathon
N59°42´57" E10°9´54"
Altitude: 853ft
Time until start of wave 1 of the New York City Marathon 2018:
You can click the pictures above to get a larger image. Click on the bottom right on the zoomed image to go back to normal view.
I have been running the New York City Marathon 39 times, each year since my debut in 1978. That time it was 9,875 starters. Only 3 have run it more times in the history of the race. All 3 are from New York. 1 has run 42 times and 2 have run 40 times. On this page I give advice for other participants and runners who plan to run NYC Marathon for the first time. The page will gradually be expanded.
Here are some startistics from New York City Marathon 2017:
51,278 started.
50,773 finished. That's an amazing 99.0%! (29,682 men and 21,091 women).
Finishers from all 50 US states.
Finishers from 151 countries.
Oldest man finishing: 82.
Oldest woman finishing: 84.
27,815 US finishers (14,008 men and 13,807 women).
22,958 finishers from other countries.
341 Norwegian finishers (220 men and 121 women).
New York had the most with 13,570 finishers.
Italy had most finishers outside USA with 2,881
The age group with the most finishers was 40-44 years with 8,553 finishers (5,240 men and 3,313 women).
These are the countries with most finishers:

| | |
| --- | --- |
| Country | Finishers |
| USA | 27,815 |
| Italy | 2,881 |
| France | 2,640 |
| UK | 1,532 |
| Germany | 1,361 |
| Netherlands | 1,185 |
| Spain | 1,179 |
| Australia | 1,006 |
Number of finishers for each year that I have run (1978 -2017):
You can click the graph to see a larger graph. Click in the lower right corner of the zoomed graph to go back.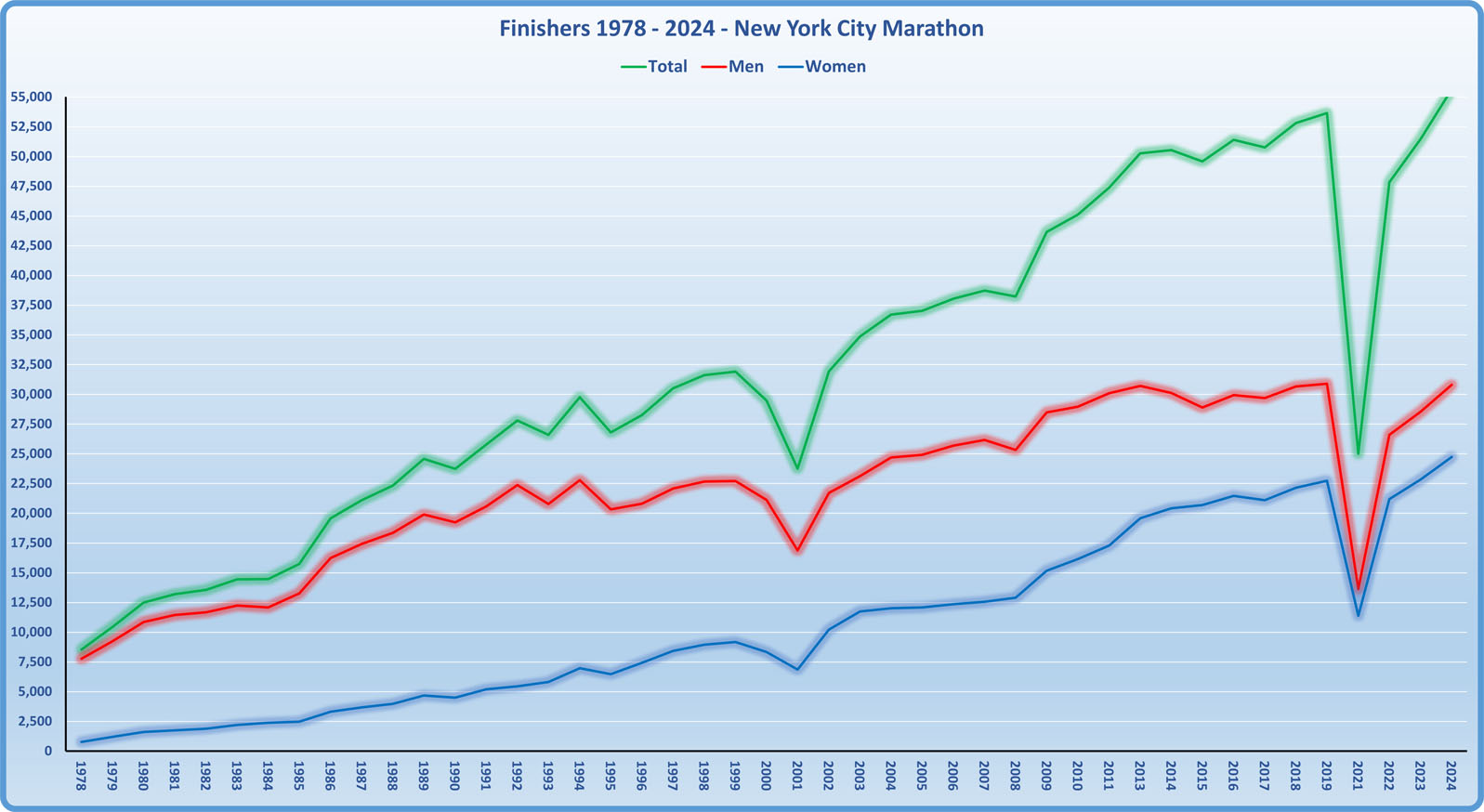 Number of finishers 1978 - 2017
Click HERE to see the numbers in a table.
Good advice and important information for those who are running the New York City Marathon:
The first thing I include is a web page containing good advice to first-timers - and everybody else. The advice is based on my experience running 38 New York City Marathons. I have also included some very important information on the page. Here it is:
Click here for advice and important information for those who are running the New York City Marathon
An interesting story:
I have a lot of interesting stories from my runs in New York. I would like to share a story from 1978, my first run in New York. Then I met Grete Waitz in the starting area several hours before the start, and we talked a long time. I gave her all my best advice. But I was surprised when I met her again after the finish on my way back to the hotel. I asked her how she did, and the answer was "They say that I won and set a new world record!". I have a poster of Grete at home where she has written (in Norwegian): "To Runar: Thank you for all the good advice in 1978 in New York. Greetings, Grete Waitz".
The finishers medal in 2008 had a picture of Grete on the front (see below). On the back it says: "Grete Waitz, the greatest champion in New York City Marathon history". She won 9 times. In November 2011 Runner's World had a large article about Grete, especially about the race in 1978. It's written in a very interesting way. All along they interview people who knew her, and I tell about my meeting with her before and after the race. I recommend everybody to read that article. Click here to read a copy of the article!
Videos:
I have also made 3 videos of the course. The newest is added September 15, 2017. It's a quick view of the course. The track is taken from my GPS watch during the 2016 race. Then it's a video where I'm "flying" the course in Google Earth. It gives a realistic view of the course and contains 3D-buildings. And last a video based on Google Street View. It shows the course from street level. In the 2 last videos I have added real New York music and running altitude information. Check that sound is turned on.
Here is the quick view:
And here is the Google Earth video:
I have also made a version where I have used Google Street View. Here I have downloaded all the Street View pictures from Google Maps and put them together. It gives a very realistic video seen from street level. For Verrazano Narrows Bridge Street View pictures does not exist. Here I have inserted footage from my other video(see above).
Here is the Street View video:
I have also made MP4-versions. You can download them here. They play on both PC and mobile units, also on iPhone og iPad. And you don't have to be online after you have downloaded them. The quality is also much better. They play fine full screen on iPad.
You can download the Google Earth version by right clicking here and saving it on your PC
You can download the Street View version by right clicking here and saving it on your PC
Please give me feedback. You can also ask questions about the New York City Marathon. I have some experience after finishing 39 times!
Here is an animated video I just created. It shows a dialogue between a Marathoner and a non-runner. You can change the quality to HD and watch it full-screen (at the bottom of the video window):
Here are all my bibs and medals from 1978 to 2017. You can click on the pictures to see a larger picture